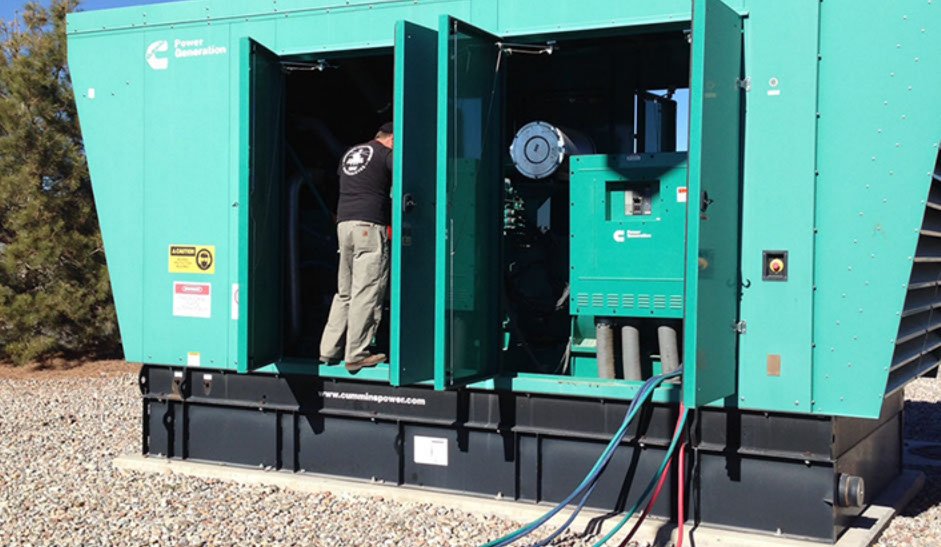 POWER GENERATION SERVICE
Power Generation Service LLC provides engine and generator service
and repair for all major brands like Onan ®, KOHLER®, Kubota®, and
Generac®. We provide solutions for construction companies, rental
yards, home owners, and many other businesses. From commercial
generators to portable power generators, industrial generators and
residential generators, Power Generation Service LLC technicians are
experts at servicing, diagnosing, and maintaining the most advanced
power systems available on the market. Our field service technicians
travel the state of New Mexico and parts of Arizona with over 125
years combined experience.
REPAIR & MAINTENANCE SERVICES
Your standby generator engine is very similar to a vehicle's engine and, just like your car, it needs regular maintenance to make sure it runs every time. A planned maintenance program can be tailored to your needs. These programs include regularly scheduled fluid and filter changes, environmentally safe disposal of used fluids, and complete testing of the system. A planned maintenance program helps identify minor problems with equipment and correct them before they become major problems, ensuring your backup power supply is ready to perform when you need it most. As with any mechanical system, poorly maintained standby generators are more prone to failure, which is why manufacturers require proper maintenance as a condition of the warranty.
GENERATOR SYSTEM (LEVEL 1)
INSPECTION
Inspection of the general physical condition to include:
Cooling System: Inspection of radiator/heat exchanger, hoses, connections, capacities, fan belts, block heater, and water pump and freeze protection, conditioners.
Starting System: Inspection of batteries, battery charger, starting motor and alternator.
Lube Oil System: Inspection of oil level, oil pressure and oil for contaminates.
Fuel System: Inspection of governor and controls, fuel pump, filters, day tank and pump. Natural gas and liquid propane pressure/leak testing and adjustments.
Air Induction Exhaust System: Inspection of air inlet system, exhaust manifold, exhaust system, intake louvers, and exhaust louvers.
Engine Monitors & Safety Controls: Inspection and testing of safety controls, remote annunciators/alarms, and gauges.
Power Generator: Inspection of brushes, slip rings, rotor, stator and wiring.
Generator Controls: Inspection of controls and safety shut down/alarms.
Rodent Infestation: Inspection of and cleaning debris/nesting material to promote safe operation and emergency power.
NOTE: INSPECTION AND/OR TESTING FAILURES, might require replacement part, materials, and additional labor.
GENERATOR SYSTEM (LEVEL 2)
PREVENTATIVE MAINTENANCE
Level 2 Service includes all inspections noted for a Level 1:
Cooling System: Includes testing for leaks, coolant for contaminates and strength. Replace filters.
Fuel system: Includes testing for contaminants, fuel system pressure, if needed. Replace filters.
Engine Gas Fired: Includes ignition system testing of wires, plugs, cap, rotor, coil packs and sensors.
Lube Oil System: Includes replacement of filter and oil.
Starting System: Includes inspection and testing of batteries, battery charger, starting motor and alternator.
Engine Monitors & Safety Controls: Includes testing of gauges and safety controls. Recalibration of the manufacturer's specifications if possible.
Power Generator: Includes testing and cleaning of the brushes, slip rings, rotor and stator.
Generator Control: Includes cleaning and testing of the control system performance level per the manufacturer's specifications and programming.
OPTIONAL SERVICES
Generator Load Bank Testing: Load bank testing is a way of validating the correct operational performance and battery autonomy of the UPS system. It tests the UPS and generator under load conditions. It is most often carried out during preventative maintenance.
Automatic Transfer Switch Preventative Maintenance: Replace the control system computer back up memory (battery with new and reprogram). Verify the sequence of operation with a thorough NFPA 100 testing.
Do you need a new generator or need one serviced? We've got you covered!